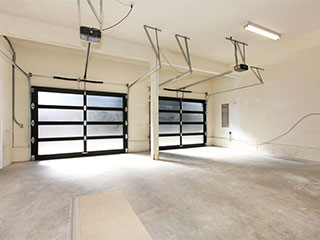 These devices come in a variety of models but fall into three categories based on their mechanics. Properly maintaining your opener will help keep it functional. Should the need arise, our repair and replacement services can help.
Choosing The Right Opener
When choosing a garage door opener, you can select from three types: the chain, belt, or screw drive. The chain drive uses a chain to lift the door. It is a more affordable option but is a little noisy and is therefore recommended for detached garages. The belt drive uses a belt in place of the chain, resulting in a quieter operation. Models of this type are sometimes more expensive than chain drive options but are recommended for attached garages where noise is likely to be an issue. Lastly, the screw drive system uses a threaded rod and a trolley to move the door. Although these types can be noisy, they need very little maintenance because they consist of only a handful of parts. This type is recommended for those who do not mind the noise and who also do not want to be bothered with regular maintenance.
You may also be interested to learn about some of the additional features that can be included with particular models, such as smart device compatibility. Our experts can help you choose the perfect opener for your garage door based on your needs, budget, and type of garage.
Installing Your New Unit
We can install your new opener properly and safely. We will prepare the garage door, assemble and install the new unit, as well as any additional features you wish to have put in place at the same time. We will also always test all of the safety features at the end of an install, and adjust them if needed.
Maintaining and Repairing Your Device
Regular maintenance of your garage door opener will help to keep it operational. We can lubricate your drive system (if screw type) or adjust the chain drive if you have this type of opener system. Should you have a problem with your sensors or the safety reversal feature, or the remote, our repair team will find the cause and fix or replace the faulty components.
Contact Us
If you're looking to buy a new unit or need to repair your existing opener, simply contact us today at Garage Door Repair Long Beach – we'll be glad to hear from you!
In addition, we offer:
Part Replacement & Lubrication
Belt Drive Garage Door Openers
Oil Tempered Torsion Springs
New Garage Door Installation