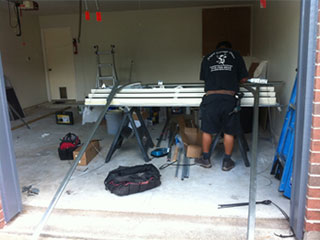 Even if you think that you are already taking great care of your garage door and its various parts, having our experienced technicians make sure that its bearings are in good condition and that its springs haven't rusted or gotten otherwise damaged is a good idea. Getting professional help ensures that your system lasts for a long time.
The Photo Eye Is Not Adjusted
Photo eyes are a crucial part of your garage door system. They help to prevent potential bodily injury or property damage by keeping your door from accidentally closing on any person or object in its path. If these sensors become dirty, misaligned, or damaged, they will not be able to properly detect an obstacle. This is a common problem that requires the care of expert technicians.
The Remote Isn't Working Correctly
Another reason to call our experts is because your remote has stopped working properly. This can occur for many different reasons. Because there is something wrong with its wiring or because your neighbor's opener is interfering with your frequency, for example. Whatever the case may be, this type of issue can be really frustrating to deal with. Not to worry. A quick visit from our experts will have everything sorted out in no time.
The Spring Broke
If you are at home during the time one or more of your springs break you'll immediately know it happened. The unbelievably loud BANG that will resonate from inside your garage will be impossible to miss. The incredible amount of tension involved in the operation of these crucial components makes it extremely dangerous to try and handle them without professional assistance.
Call Today!
At Garage Door Repair Long Beach, we take pride in our work. No matter what problem you're facing, we have the experience, the skills and the professional tools needed to get everything fixed quickly.
We also offer:
Garage Door Troubleshooting Services
Garage Door Torsion Spring Replacement