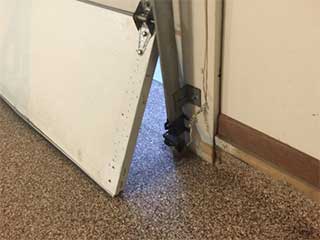 Whether they're aware of it or not, most homeowners come to depend on their garage doors as part of their daily routine. Either by using the opener's control panel directly or using your remote control, your door will open and close at the very least twice a day - once when you leave to go to work, and once when you get back home. Again, that's twice a day at the very least. There may be days when you open and close your door 10 or more times. Still, you probably spend no time thinking about how this complex mechanism works. Not until it suddenly stops functioning properly, that is. When that happens and you can't figure out the problem, our expert team is the one to call to get the best professional assistance around.
The Door Gets Stuck
Is your door opening or closing only halfway? You keep hitting your remote control, but it still gets stuck in the same spot. This type of issue could mean several things. The tracks may be blocked by dirt or some sort of buildup of tiny debris. The rollers or other hardware parts may be damaged. Also, the tracks may be dented which often prevents your door from opening or closing properly.
It Won't Open Or Close At All
This is probably the biggest issue that homeowners end up experiencing eventually. The door simply will not open or close. This type of scenario is problematic, to say the least, especially if you have to get to work and your car is stuck inside your garage. The sheer convenience these types of systems come to afford our daily routine can all of pale in comparison to the absolute inconvenience they cause when they break down suddenly. Sometimes the problem is very simple to figure out and can be quickly resolved, as is the case in when the reason for the problem is nothing more than a couple of dead remote control batteries. However, if that's not the root of the problem, professional assistance is required.
Broken Spring
This type of problem is particularly dangerous. Your garage door springs are under a great deal of tension, as they are the components that allow your door to open and close smoothly. and when one of them breaks, your door will not work, and the safe operation of your system will become compromised.
Malfunctioning Motor
Like a broken spring, a malfunctioning motor is one of the more serious problems you can experience. Without the motor, you'll have to resort to manual operation of your garage door, as the system will lack the horsepower output necessary to operate it automatically.
Leave It To The Professionals
If you are not a garage door repair professional, attempting any type of repair or replacement work on your own is actually very dangerous. You may further damage your system, or worse, end up harming yourself or your family members. Be sure to contact our team at Garage Door Repair Long Beach to have our experts handle all of your problems for you.