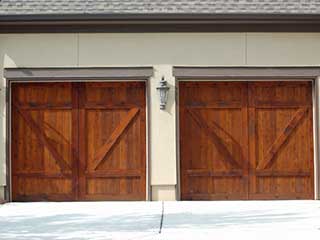 Whether there is a need for replacing faulty safety sensors or for fixing a bent track, we will do the job in the shortest time possible. But repair work isn't all we do. Our professional technicians can install a brand new system for your garage, or replace your existing one with a new and improved option.
Which Type of Door Should I Get?
You will have to decide on the material that is best suited for your home and its surrounding conditions. Aluminum, steel or wood are the most common choices, each with its own advantages and disadvantages. If you're uncertain as to which type is the best for you, give our experts a call.
Aluminum Doors
Aluminum doors are very lightweight and can even be as steady as wooden doors. They are also highly resistant to rust and can last for a long time without warping or cracking like wooden ones will. However, aluminum is more susceptible to damages.
Steel Doors
Steel doors are the heaviest and most durable variety and can even be made to look like wood with the right faux-wood finish. If you want a door that is powerful enough to handle strong winds and is more damage resistant, then this is the one for you. The downside of steel is that it is more likely to suffer from rust.
Wooden Door
This type of door can be a great asset; it'll add a visual value to your home. The downside to this type of door is that it can warp, peel and crack, not to mention rot. A fresh coat of paint every couple of years can help, but eventually, you will need to get it replaced.
Let The Experts Do It
When you're ready to replace your existing door, be sure to give us a call. We'll have your new one installed in no time. Due to the nature of their complexity, it's very important that you don't attempt to install garage doors by yourself. Our experts at Garage Door Repair Long Beach are more than happy to do it for you.